AUDITORIUM´S & THEATERS
cONCERT HALLS
Auditoriums and concert halls are prestigious venues that host a wide range of performances, from orchestral concerts to theatrical productions. These spaces require exceptional audio systems to ensure that every note, dialogue, and sound effect is delivered with pristine clarity and immersive quality. When it comes to selecting the perfect audio brand for auditoriums and concert halls, Tecnare Sound Systems stands out as the ideal choice. With their cutting-edge technology, superior sound reproduction, versatility, and expertise in creating immersive audio experiences, Tecnare guarantees an unforgettable sonic journey for both performers and audiences alike.
In auditoriums and concert halls, superior sound reproduction is essential to convey the true artistry and emotion of the performances. Tecnare Sound Systems is committed to delivering exceptional sound quality. Their products are meticulously engineered to reproduce sound with utmost clarity, precision, and balance across the entire frequency spectrum. From the delicate highs of a soprano's voice to the resonating lows of a grand piano, Tecnare's audio systems capture the subtleties and richness of the performance, ensuring an immersive and authentic listening experience for every member of the audience.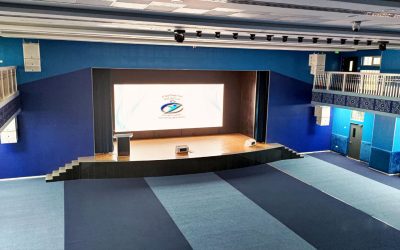 Seeb, Oman Al Awael Private School Main AuditoriumThrough Pixel Solutions, Distributor of Tecnare in Oman, Tecnare has supply the entire sound reinforcement for the main Auditorium of Al-Awael School.Reinventing The RulesInstallation Review Al-Awael Private...
REINVENTING THE RULES
Tecnare