COMMERCIAL SERIES AMPLIFIERS
DSP Amplifiers & Digital Matrix Processors

 Four Channels Digital Amplifier Volt Constant

8 In 8 out DSP Audio Processor
4 Channel Digital Amplifier with DSP
The DAV is a Class-D, Hi-Z and Low-z power amplifier designed for both commercial and industrial public address applications and small professional sound systems.
The integrate SHARC® DSP and network control offers remotely monitor status of power amplifier, compression Controller, limiter, noise gate, parametric equalization, matrix routing, delay and other DSP functions in real time.
The simple software interface allows an easy setup and operation. Also provides a variety of connection methods ensure its good configuration and expandability, suitable for various applications, such as performance centre, theatre, gallery, hotel, conference centre, shopping centre, retail store, restaurant, etc.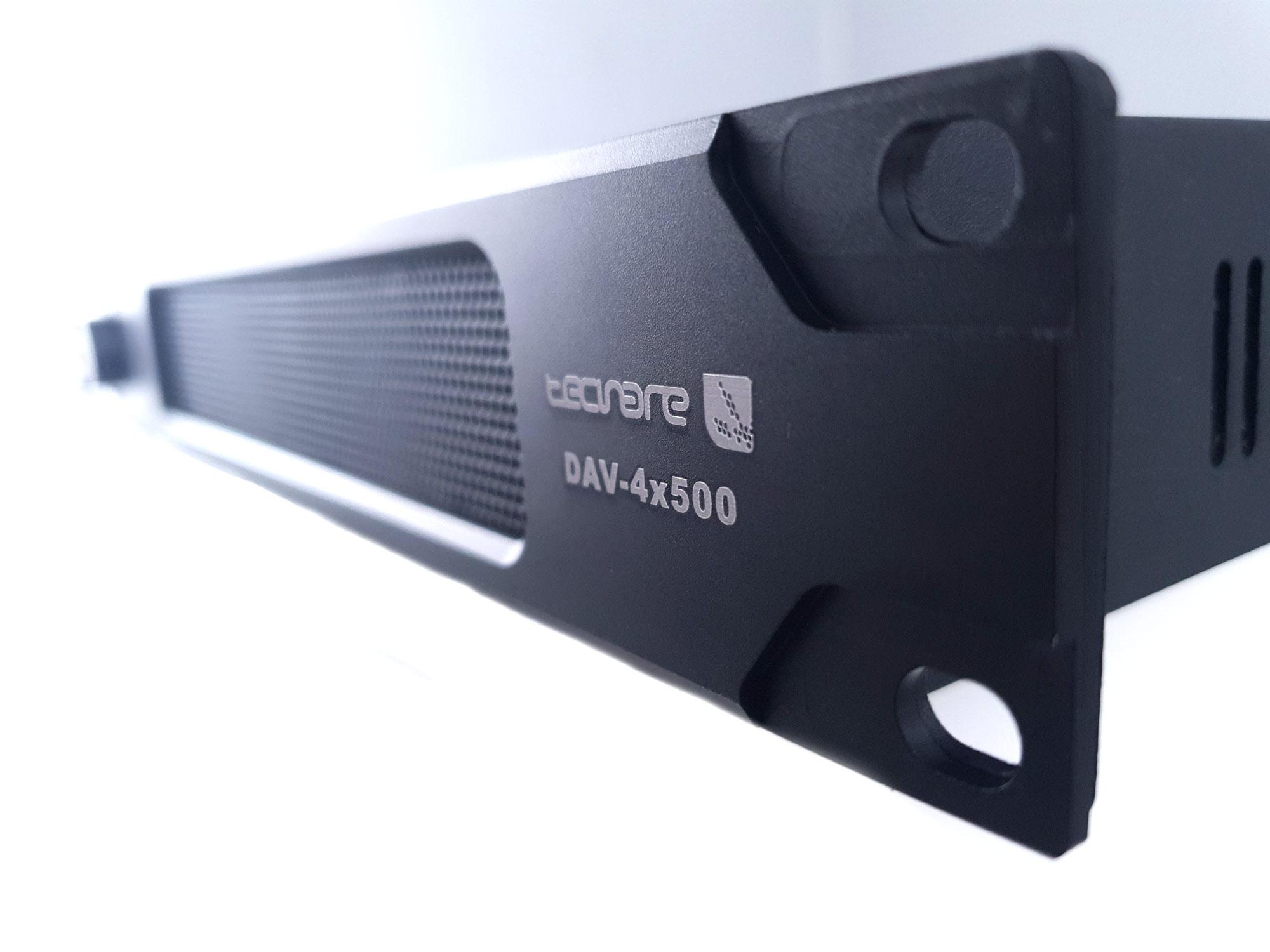 General Specifications
 
Amplifier topology
Class-D
Number of channels
Four
Total Power output
4×500 W @4Ω; or 2×1000 W @8Ω bridge / 2 x 1000 W @100V, 2x600W @70 V line bridged
Audio inputs
4x Analogue, and Optional 4xDante™ (factory fitted option)
Digital Signal Processing
DSP SHARC® processing on all inputs and outputs
Control & monitoring
TCP/IP, USB, RS485, RS232, GPIO – Volt-free relay and contact closure port
Frequency response, 4 Ω load
+/- 0.5dB, 20Hz to 20kHz @8Ω load
Total harmonic distortion, THD
‹0.1% typical, 1kHz signal, full power
Inter-channel crosstalk worst case combination
Better than -70dBr at 1kHz
Maximum analoge input level
+16dBu (4.9V) => +6dB
Digital Signal Processing

 
Resolution
24 bit
Sample rate
48 kHz
Input processing
Input signal routing, gain, sensitivity level, Polarity, Mute, Noise Gate
EQ: 31 x PEQ / HPF / LPF
Output processing
Source, delay, gain, polarity, Mute, crossover filters, Limiters, Out Compressor
EQ: low shelf, 10xPEQ / HPF / LPF
Power Output
 
4Ω nominal load, per channel

500 W
8Ω nominal load, per channel
300 W
Bridge, per channel pair, 8Ω nominal load
1000 W
70V / 100V line operation /two channel line bridged
600 W/1000 W; 70V/100V
Impedance
4-16 ohm, DSP Selectable
Protections Systems
 
System protection

Startup delay
Excesive temperature
Main voltage: Over / Under voltage protection
Power circuit breacker
Fan operation at correct speed

Speaker protection

Limiter
DC Offset protection
Excessive HF energy (VHF) limiter

Monitoring


Temperature
Power
Current
Voltage
Monitoring
Each driver impedance
Protection limiting for each output

Physical

 
Cooling

Two fans intelligent control
Analogue IN and LINK
4x female XLR, Input Phoenix pluggable terminal block, Link Phoenix terminal block
Amplifiers output
4x two (black and red) binding post terminal
Main input connector
IEC connector
Dante™ Primary and Secondary
2x Shielded RJ45
Relay output & contact clousure input
Phoenix pluggable terminal block
Front panel display
320 x 320 IPS LCD
Front panel encoders
One, idented, velocity sensitive
Front panel push buttons
Four for Mute and Escape
LED indicators
Power on
Enclosure

Standard 19" 1U (44,5×300)mm (11.81" deep)
Net Weight

3,6kg (7.93 lbs)


With industry-leading chip ADI SHARC 21489 , the working frequency can reach 450M Hz; Customizing operation software makes the configuration more flexible, and it can control Different DSP.
Provides operation interface for customers to realize centralized control of multiple devices. And it can control third-party's equipment through DUP RS232, RS485; AFC (feedback suppression), AEC (echo cancellation), ANS (noise suppression), ANC (noise gain compensation), AGC (automatic gain), gain sharing, threshold automatic mixing, dodger and other processing modules;
Each channel has independent adaptive feedback suppression, automatically find the feedback point, and automatically suppress;
DMA8X8 uses the industry-leading chip ADI DSP SHARC 21489, and the highest operating frequency can reach 450M Hz.
The input and output modules of DSP can be customized according to the site conditions. At the same time, it has independent AFC/ AEC/ ANS/
AGC/ gain sharing automatic mixing, threshold automatic mixing and other processing modules. Meet the needs of audio processors and transmission in various places, such as conference rooms, multi-function halls, conference centers, auditoriums, administrative centers, etc
| | |
| --- | --- |
| Input Channels (analog) | 8 |
| Output Channels (analog) | 8 |
| Dante audio channel | Dante Ultimo |
| Input | 5/ 8/ 12 section PEQ (optional), AFC/AEC/ANS/AGC/Auto Mixer |
| Output: Frequency divider | Frequency divider: 5, 8, 12 segment PEQ (optional); Delayer; Limiter |
| Input gain | 0/10/20/30/40/43 dB |
| THD+N | 0.003% @4dBu |
| Frequency response | 20~20kHz ±0.2dB |
| Maximum level | +24dBu |
| Phantom power | +48V |
| Dynamic range (analog channel) | 113dB |
| Dynamic range (Dante channel) | 115dB |
| Self-Noise (A-Weighting-analog) | -89dBu |
| Self-Noise (A-Weighting-Dante) | -91dBu |
| Common mode rejection ratio @60Hz | 80dB |
| Channel isolation @1kHz | 108dB |
| Input impedance (balanced connection) | 9.4KΩ |
| Output impedance (balanced connection) | 102Ω |
| System delay | <3ms |
| Power supply | AC110~240V,50Hz/60Hz |
| Dimension | 482 x 260 x 45mm |
| Weight | 3kg |
8 ZONE Remote Microphone Station for DMA8X8
*Controls
Zone selector switches for Z1~Z8. Talk & Chime on/off.
Level control volume for MIC & Chime.
*Connectors
RS485 communication with DSP-880N+,DSP-880M+,DSP-880ND+.
DC Input
*Indicators
Power, Busy, Signal, Clip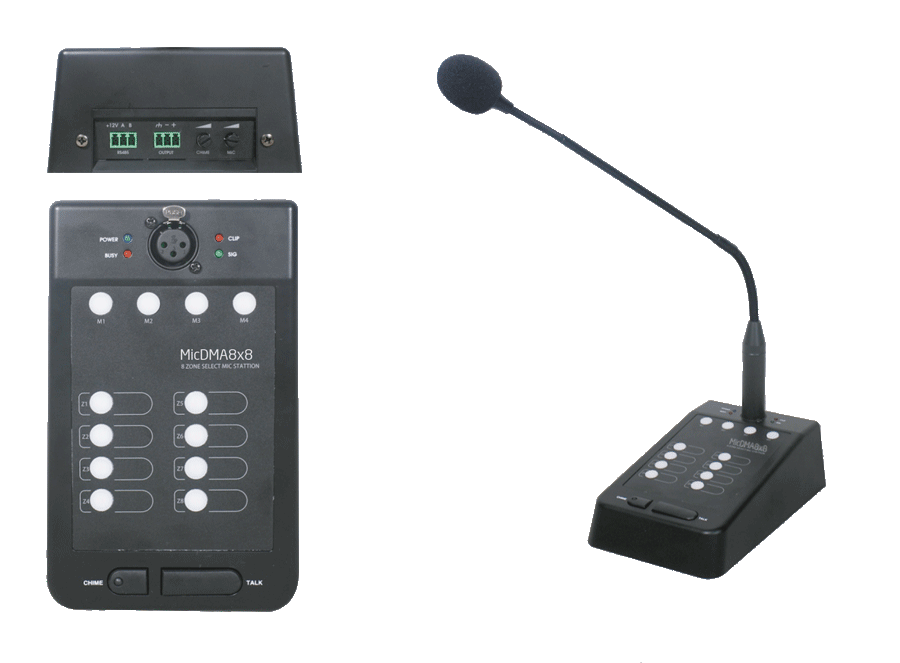 | | |
| --- | --- |
| Rated Output Level / Impedance | 0dB/600Ω Balanced |
| Input Sensitivity / Impedance | -36dB / 20 k Ω Balanced |
| Frequency Response (-1dB) | 80 Hz-15 kHz |
| T.H.D | <0,1% |
| Hum & Noise | >90 dB |
| Number of Zones | 8 Zones |
| Weight (Net) | 1,2 kg |
| Dimensions (W x H x D) | 140x60x205mm (only body) |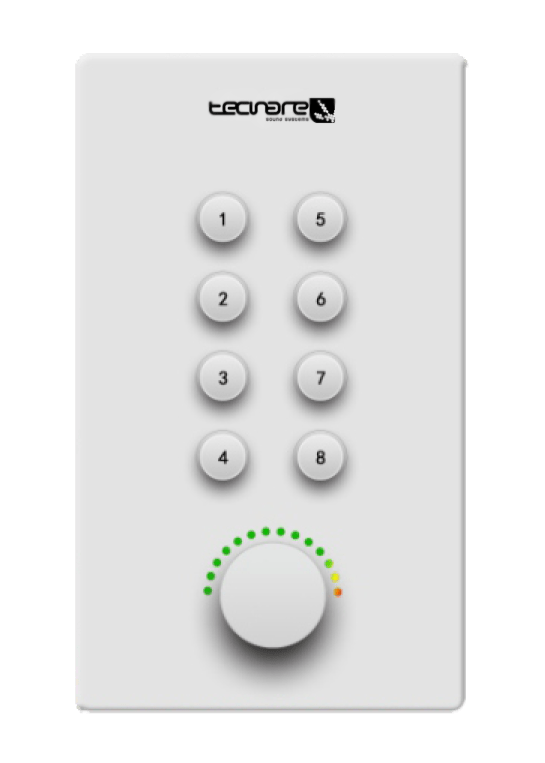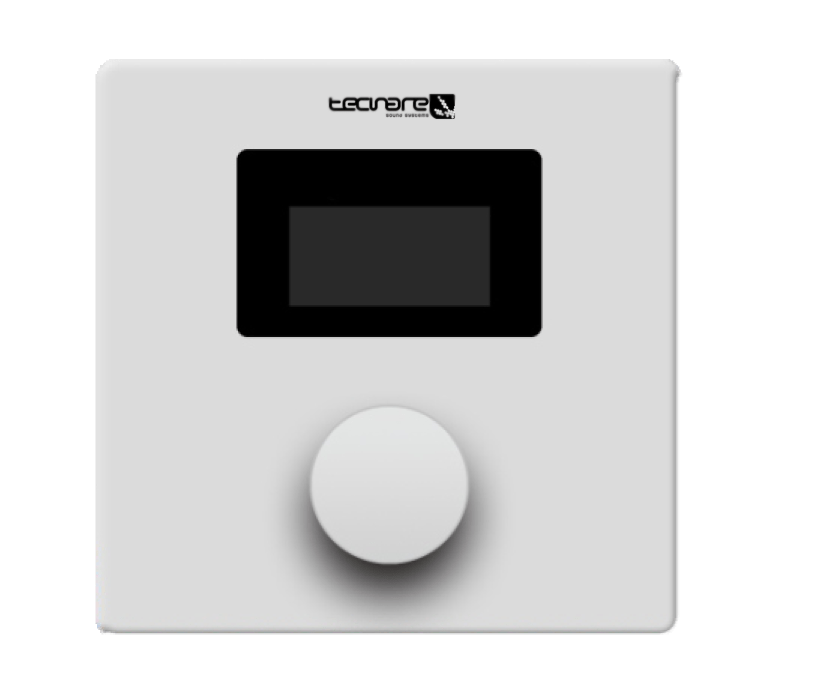 Features:
Eight buttons and one knob;
Support customized functions
Use UDP communication protocol;
POE power supply
Features:
One knob;
Support customized functions
Use UDP communication protocol;
POE power supply
Support 32 menus.
Specifications
| | |
| --- | --- |
| Programmable buttons  | 8 (support user-defined) |
| Control knob | 1 |
| Control protocol | UDP communication protocol |
| Address setting method | TCP/IP |
| Signal cable length | 100 meters |
| Power supply | POE power supply |
| Connection port | RJ-45 |
| Power consumption | <100mw |
| Color | White |
| Material | Aluminum alloy sandblasting |
Specifications
| | |
| --- | --- |
| Control knob |  1 |
| Control protocol | UDP communication protocol |
| Address setting method | TCP/IP |
| Signal cable length | 100 meters |
| Power supply | POE power supply |
| Connection port | RJ-45 |
| Power consumption | <100mw |
| Color | White |
| Material | Aluminum alloy sandblasting |
Download DAV4X500 Data Sheet
Download DMA8X8 Data Sheet