Acoustics Designs & Simulations
ACOUSTIC SIMULATON SOFTWARE
---
EASE & EASE Focus 3 are our primary tools for fast accurate modeling of Tecnare Systems.
---
The majority of Tecnare loudspeakers are available in today's most common loudspeaker simulation platform using .gll file formats. Free viewers are available to access additional loudspeaker data such as polar balloons, polar plots, Di, and many other useful information too vast for a specification sheet.
EASE Focus 3 is a three-dimensional, acoustic simulation software for the configuration and modeling of line array systems and of adjustable loudspeakers, such as digitally steered columns. EASE Focus 3 is free for the end user.
 In EASE Focus 3, each line array or column loudspeaker is described by a so-called system definition which contains the mechanical, electronic and acoustic properties of the loudspeaker system.
 Great efforts have been made to keep EASE Focus 3 intuitive and easy-to-use while introducing three-dimensional coordinates and many new features. It can be considered a tool for both the end user, who needs to set up the sound system for a show, as well as for the R&D engineer, who is interested in the acoustic qualities of the array design.
EASE Focus 3 is the optimal tool for easy and quick prediction of the sound system performance in a given venue. Compared to conventional aiming software the applicability of EASE Focus 3 is much larger. It is not fixed to a single loudspeaker product.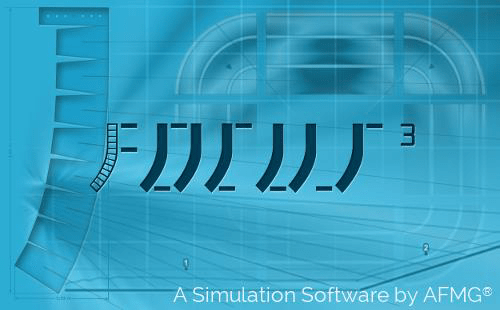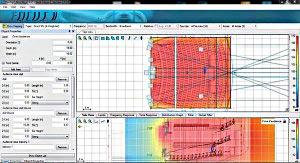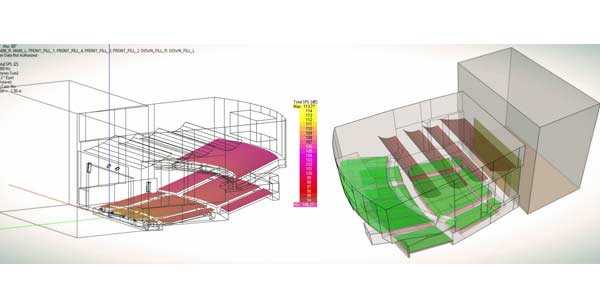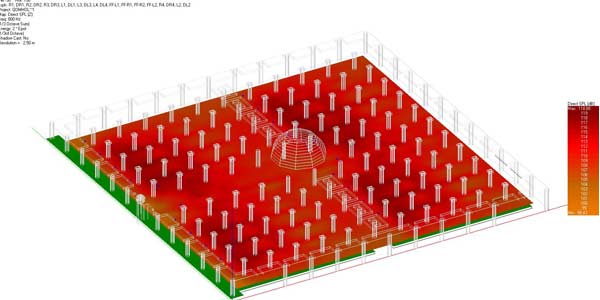 3D modeling of direct sound, displayed in horizontal and vertical cutting planes.
Support for EASE GLL files and data exchange with EASE and other AFMG software packages.
Export your full array configuration for further use in EASE.
Capability to use multiple sound sources, both line array systems and regular loudspeakers, in a single project.
Support for FIRmaker
Virtual equalizer for tuning a line array in the simulation.
Full frequency range from 20 Hz to 20 kHz.
High accuracy due to high internal data resolution and GLL data format. See AFMG white papers and AES articles for details.
Many helpful features for pre-production and on-site setup, e.g. extensive PDF-reports, additional rigging details, etc.
Support for multiple languages: German, English, Spanish, Italian, Portuguese, French
Install EASE Focus 3 – Release v3.1.12 (Oct 2020) & Tecnare GLL
Installer for the EASE Focus 3 Acoustic Modeling Software (Program and Demo Data) & Tecnare system definition for EASE Focus 3
Language versions included:
German, English, Spanish, Italian, Portuguese, French.
Tecnare system definition for EASE Focus 3
Tecnare GLL V1.3, Ease Focus 3 User's Guide & Tecnare Application note:
The EASE GLL viewer is a free application that allows you to view EASE GLL files, run calculations and extract additional manufacturer information.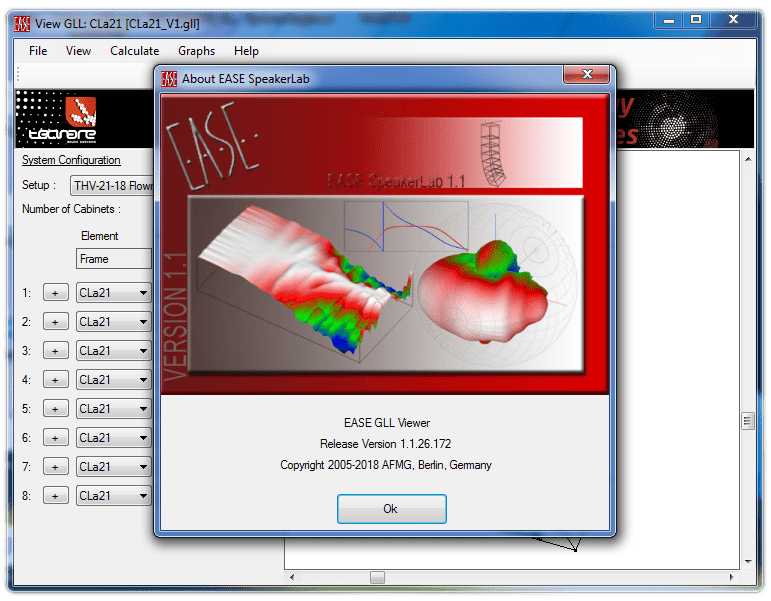 ---
Speaker data for acoustic simulator
---
EASE is the industry standard tool for acoustic modelling and system design.
TECNARE provide speaker data for EASE 4 (.gll) to help with acoustic simulations, especially room simulations.
For more information, or to purchase EASE please contact AFMG directly at: EASE Website
EASE *.gll File Request Form
EASE Focus is a software that allows the modelling of acoustic sources, in particular line arrays, in two dimensions. It only considers the direct field, created by the complex addition of the sound contributions of the individual loudspeakers or array components.
The applicability of EASE Focus is quite extended compared to conventional 2D aiming software tools. Outstanding is that it is not fixed to a single product. A configuration file allows defining the array properties in a simple ASCII format. Thus, additional arrays can be introduced at any time by additional configuration files, already existing arrays can be updated, without to change a single line of code in the software. This makes EASE Focus a generic software.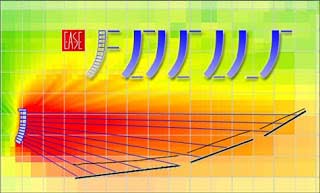 Install EASE Focus – Release v1.62 (July 2009)
Installer for the EASE Focus Acoustic Modeling Software
Note:
The installer also includes two imaginary arrays as an example. How additional system definitions can be added is described below. The language of the software can be switched from within the program
How to install EASE Focus v1
EASE Focus v1 is compatible with MS Windows 2000, XP, Vista and 7.
Please install the .NET framework 1.1 first. You can download the latest version from:
» Service Pack 1 for MS.NET Framework 1.1
Important Note: .NET Framework versions 2.0 and higher are not compatible with .NET 1.1. To run EASE Focus you have to install .NET 1.1.
Tecnare system definition for EASE Focus 1
Ease Focus1 data base from Speaker:
AMS12
AMS15
LA122
MiniArray
LA102
LA312
REINVENTING THE RULES
Tecnare