Sonically pureClass D-Power Amplifier
T44-Series
Analoge, AES3, Dante™ / AES67 digital network input

Network
Analoge, AES3, Dante™/ AES67
The T44 Series is an advanced 4-channel power amplifier which offering a combination of power delivery, sonic performance and efficiency in a robust package, surpassing to similar products.
Share the same features set and form factor as Tecnare's T48 Series amplifier and it is available in models developing between 1500 and 5000 Watts per channel or up to 10000 Watts for a bridged pair. Unusually these are not, 'transient', 'burst' or 'peak' power figures, they are the power levels that are delivered by all channels simultaneously even when driven with the same dense program material and you can use all the power all the time without need to reserve power between channels.
Each channel can be configured to deliver its maximum power into 2, 4 or 8 Ohms (2 or 4 Ohms for the T20-44 model), nominal loads as well as 25V, 70V & 100V constant Voltage (CV) lines. This offers designers and integrators unparalleled flexibility and cost effectiveness.
The integrated state-of-the-art DSP, based upon the same technology of  the DP4896 processor, and network control being the perfect complement to the world's finest loudspeaker systems.
This truly revolutionary amplifier platform provides a logical front panel user interface and powerful Ethernet based remote control. Both provide access to all features allowing rapid system configuration with full performance monitoring and analytics.
The advanced 96 kHz DSP is fully integrated into the TSeries to provide a multitude of features that ensure maximum performance and worldwide compatibility of Tecnare enclosures. Also the new hardware upgrade released (marked with the reference "F") provides up to 1000 FIR filter taps @ 48kHz on each output channel, which is implementable via System Engineer Software providing a extra optimization process in line array systems.
The TSeries amplifiers employs comprehensive protection functions to maintain safe operating conditions of both the amplifier and the loudspeakers driven — including a powerful VX Limiter suite which sports Peak, RMS and excursion limiting, as well as multiband limiting for passive 2-way enclosures.
Features
4 sonically pure class D channels
Unique, precise digital signal processing
Over designed universal power supply
Analoge, AES3 and optional DANTE™ /AES67 audio input / SPEAKON® NL4 output connectors
Accepts 48kHz and 96kHz FIR files via System Engineer (certain models)
Manufactured in UK
Applications
Medium and large size PA systems
Disco, club and DJ sound
TECNARE systems
Public Spaces
Mobile and fixed installation
General Specifications
Number of Channels:
Power Output, all channels driven (RMS):
   *T20-44:                4 x 5000 Watt @ 2 ohm / 4 x 3000 Watt @ 4 ohm / 4 x 1500 Watt @ 8 ohm / 2 x 10000 Watt @ 4 ohm Bridge
   *T10-44:                4 x 2500 Watt @ 2 ohm / 4 x 2500 Watt @ 4 ohm / 4 x 1500 Watt @ 8 ohm / 2 x 5000 Watt @ 4 ohm Bridge
   *T06-44:                4 x 1500 Watt @ 2 ohm / 4 x 1500 Watt @ 4 ohm / 4 x 1500 Watt @ 8 ohm / 2 x 3000 Watt @ 4 ohm Bridge
Audio Performance
Gain (with all the DSP level controls set to 0dB):
32 dB
Frequency response 4 Ohm load:
<7Hz to >30kHz, ‐2.5dB points
Inter‐channel crosstalk worst case combination:
better than ‐85dBr at 1kHz and ‐75dBr at 10kHz
Total harmonic distortion THD:
<0.05% typical, 1kHz signal, AES17 filter, 4 Ohm load
Power Supply
Topology (main power supply):
high performance Series Resonant
Topology (auxiliary and standby supplies):
Low quiescent Eco‐Flyback
Nominal mains input voltage range:
85V to 240V, Power supply automatically detects voltage and configures accordingly
Physical
Audio Input Analog:
4x female and 4x male NeutrikTM XLR-3 / 1 x Male and 1 x female Neutrik TM XLR-3
Amplifiers output:
4x Neutrik SpeakonTM NL4 connectors
Network data port:
1 x Shielded RJ45
Dante Primary and Secondary:
2x Shielded RJ45
Enclosure Standard:
19" 2U (88mm), 357mm (14") deep with handles and optional rear support
Net Weight:
12.5kg (27.5 pounds)
Medium and large size PA systems
Mobile and fixed installation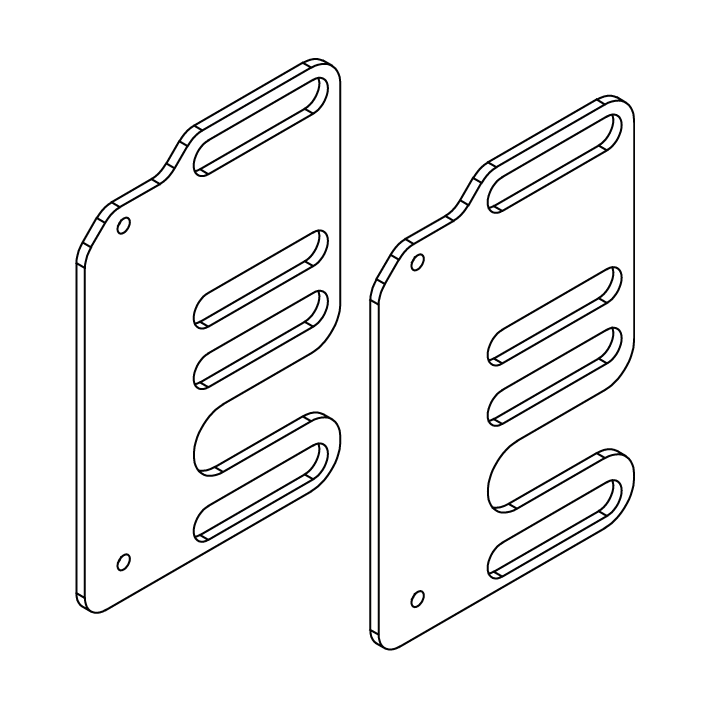 TSK-TS
Rear rack support kit (2 x L-bracket, 2x adapter plate and mounting hardware).
Compatible with all T-Series amplifiers and Xit4 amplifiers.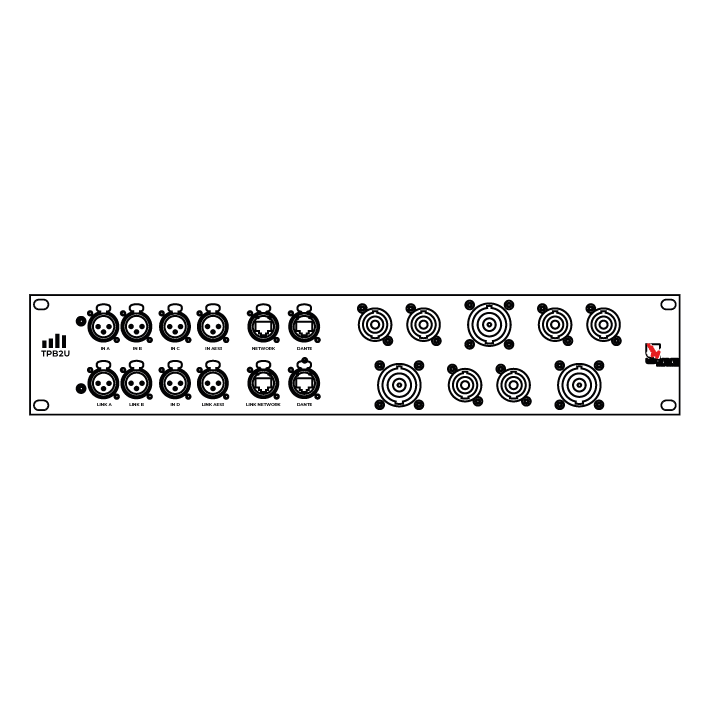 TPB2U-OUT
19"/2HU connection panel front-mounted for the connection of up to three
T-Series Amplifier with 2 Analog In/link
port, one AES3 In/Link port, 1 x Ethernet port, 12 x SpeakOn®NL4 amp outputs and 3 x SpeakOn®NL8 Multi-Out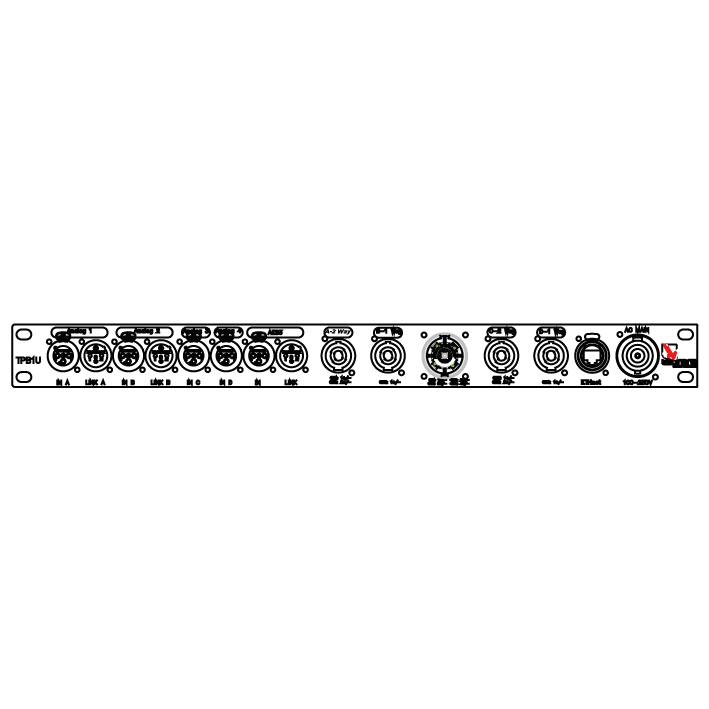 TPB1U
The TPB1U connector panel is a pro-grade audio panel used as a solution for the wiring of ampracks, which should head for loudspeakers by a both, four pin and / or eight pin SpeakON cabling.
Output port include 4 SpeakON NL4 and 1 SpeakON NL8, 4 XLR3 analogue inputs and 2 XLR3 analogue link ports. In addition, the system offers 1 AES3 input (1/2) and 1 AES3 link port (1/2)
Network communication is supported through 1 RJ45 port.
The panel is completed with a front-side 32A PowerCON32 connector to bring AC power to the amplifier,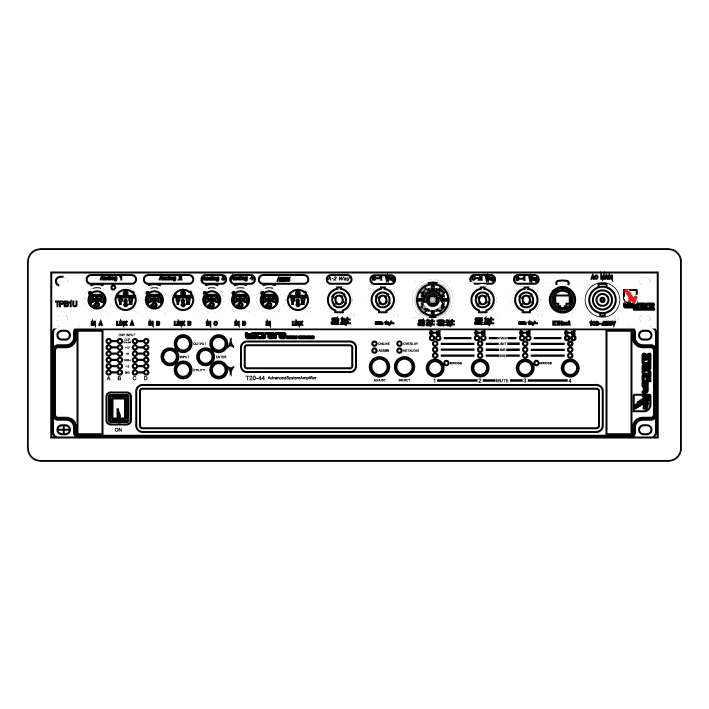 T-SRack3 STD
3HU Quick shut Touring rack assembly,
1 x T-Rack3U -STD, equipped with 1 x
TPB1U Patchbay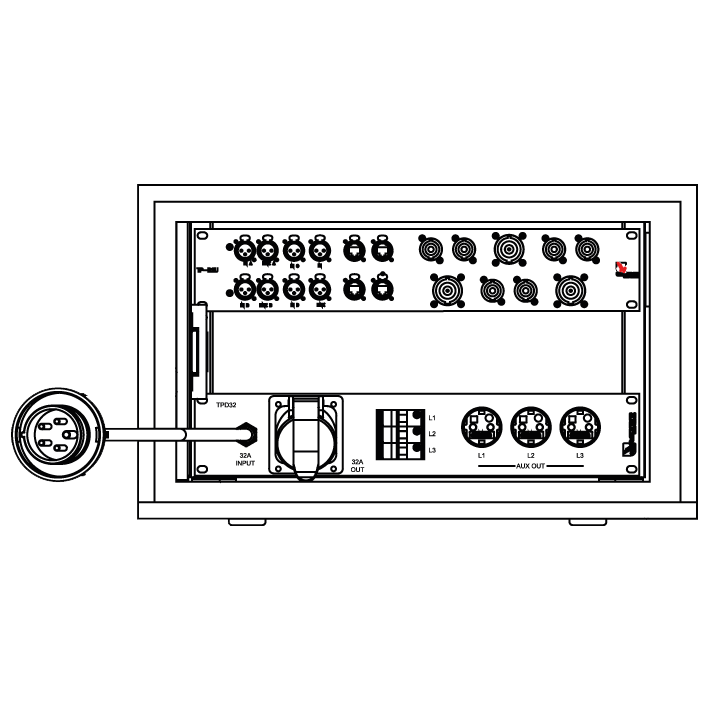 T-SRack6
6HU Quick shut Touring rack assembly,
1 x T-Rack6U, equipped with 1 x
TPB2U Patchbay, 1 x TPD32 (rear
mounted), 2 x Cat6cable, signal wiring
for 2 x T-Series amplifier, 2 x 0,5m
Power cable assembled with 2 x
PowerCON®32, 1 x TP-Link®
Switch 8-Port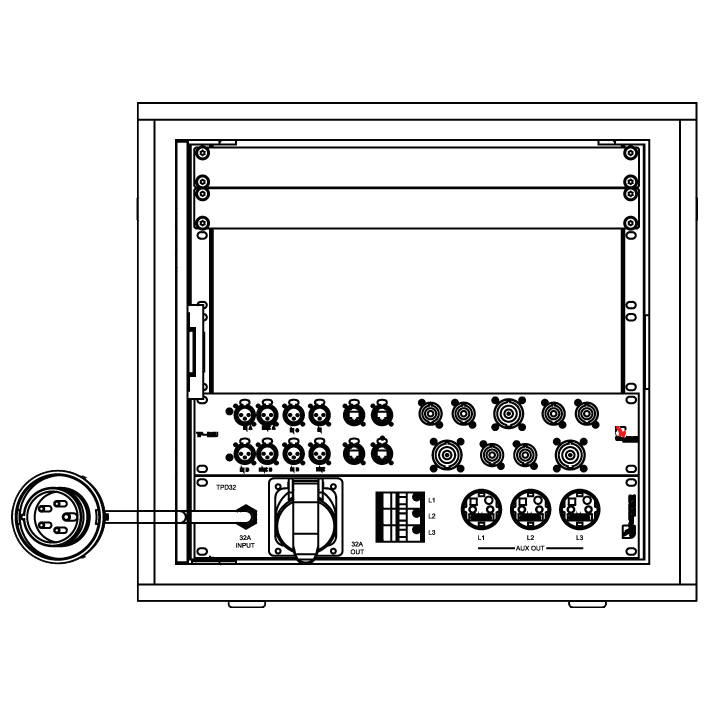 T-SRack10
10HU Quick shut Touring rack assem
bly, equipped with 1 x TPB2U Out
Patchbay, 1 x TPB1U-IN Input Patch-bay, 1 x TPD32, 3 x Cat6cable, signal
wiring for 3 x T-Series amplifier, 3 x
0,5m Power cable assembled with 2 x
PowerCON®32, 1 x TP-Link® Switch
8-Ports.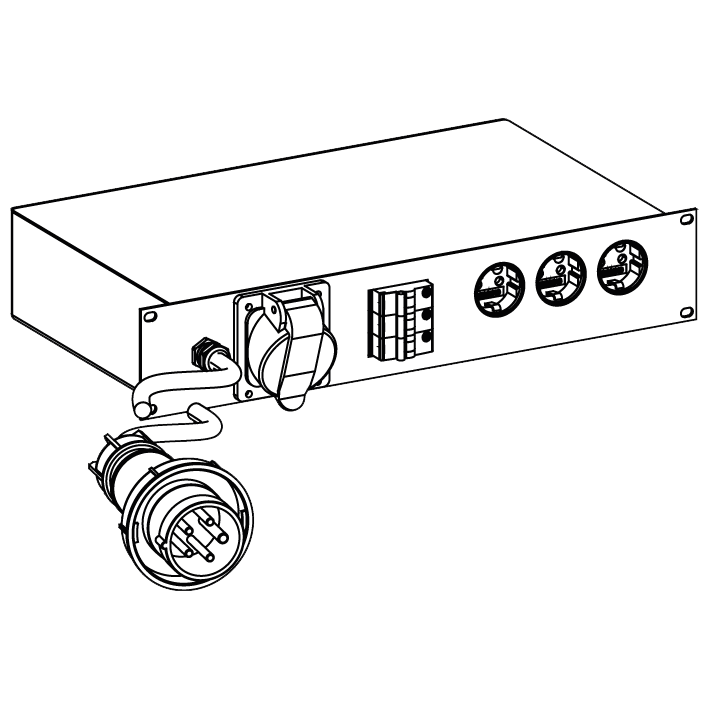 TPD32
Power Distributor in 19" housing/ 2 HU
– 32A 3phase input via 1,5m power
cord and plug, 1 x CEE device sockets
32A on the front. Protection via C16A
circuit breakers. Control light per phase.
3 x Shuko connectors on the front, 3 x
Shuko connectors on the rear, 3 x
PowerCon® 32 on the rear.
REINVENTING THE RULES
Tecnare