ULTRA HIGH-POWER BASS-REFLEX INFRA-SUBWOOFER
SW221
Power
3400 W AES / 6800 W continuos
SPL
138 dB continuous /144 dB peak (T-20 Amplifier)
It is a driven 1-way bass-reflex design to extends the frequency response down to 27 Hz. It has two bass-reflex chambers designed around two 21-inch/4.5-inch voice coil high spec dual voice coil drive units and ultra-wide ports that drastically reduce low-frequency turbulence to deliver exceptional low frequency performance.
The SW221 is designed to streamline setup a deliver maximun result in minimum time uniting features unique to deliver solutions for rental and installations systems.
The SW221 can only be used in ground stacked configurations in conventional left/right setups as well as arranged in a cardioid subwoofer configurations.
The cabinet is constructed of 18mm ply Baltic birch and have an impact and weather resistant paint finish (Polyurea Protection), properly braced for the intended use. The front of the cabinet are protected by a hex-stamped rugged steel grille and each side panel incorporate four recesed handlers. The connectors are Neutrik NL4. Four 100mm wheels are available as optional accesorie to mounted at the rear.
SW221 providing a coste efective solution for professional of touring, integrator and installers delivers an intelligent and flexible system to at any budget.
Features
High temperature 4.5-inch voice coil drivers
2 x 21-inch-LF cone driver
High-output and high-definition sound
Applications
Stadium
Infra extension for High-End night club
Sound System Rental
Arenas
| | |
| --- | --- |
| Frequency Response:  | 27 Hz – 90 Hz, Free Field: 30Hz-100Hz ±3dB, measured on axis |
| Components:  | Low 2×21" LF driver |
| Nominal Dispersion:  | Standard or Cardioid |
| Impedance: | 4 Ohm |
| Axial Sensitivity: | 104 dB (1w/1m) |
| Calculated SPL: | 138 dB continuous /144 dB peak (T-20 Amplifier) |
| Power Handling: | 3400 W AES / 6800 W continuos |
| Dimensions (HxWxD) (millimeters/inches): | 1404x835x616 mm / 55.27″x32.87″x24.25″ |
| Net Weight (kg/Pounds): | 125 kg / 275,578 lbs |
| Construction: | 18mm birch plywood. Finished in black semi-matt textured Durawound weatherized coating. Two recessed carrying handle |
| Grille:  | Powder coated perforated steel |
Accesories:

Colors Versions:
-RAL Colors
100 mm rotating wheels
Up three units Caster Frame
FUND-221 Protective transit soft covers for one SW-221. Other configurations are available upon request
Infra extension for High-End night club
SW-221 subwoofer can be configured in cardioid arrays to reduce the amount of output heard behind the subwoofers. Subwoofer cardioid arrays are archived by placing three units coplanar to each other with one unit facing the opposite direction. The output of the reversed subwoofer cancels the output of the other subwoofers normally present behind the units.
Tecnare has specifically designed cardioid presets (SW221_60i and SW221_75i). However, we recommend calculating the appropriate ratio of forward to rear facing
loudspeakers, as well as the measurement of required parameter setting of polarity, delay, and
gain. For more information, contact Tecnare Technical Support.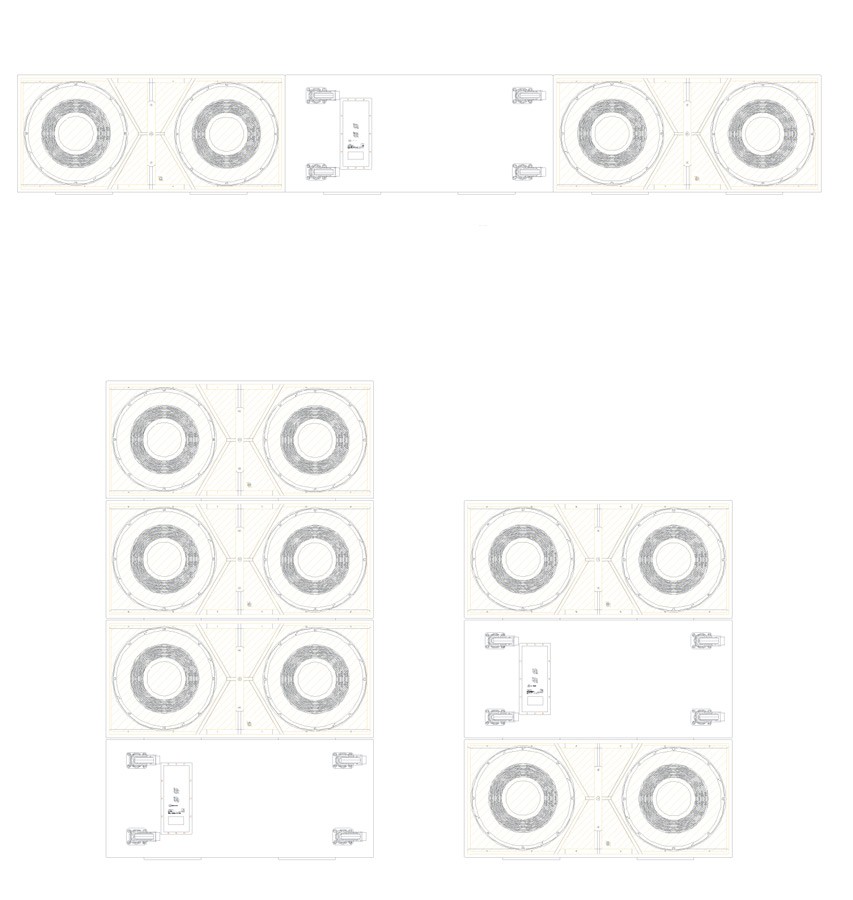 REINVENTING THE RULES
Tecnare