HIGH-POWER CURVILINEAR ARRAY LOUDSPEAKER
CLA312
2 x 12-inch LF cone Horn-Loaded
1 x 12-inch MF cone Horn-Loaded
2 x 1.4-inch HF compression driver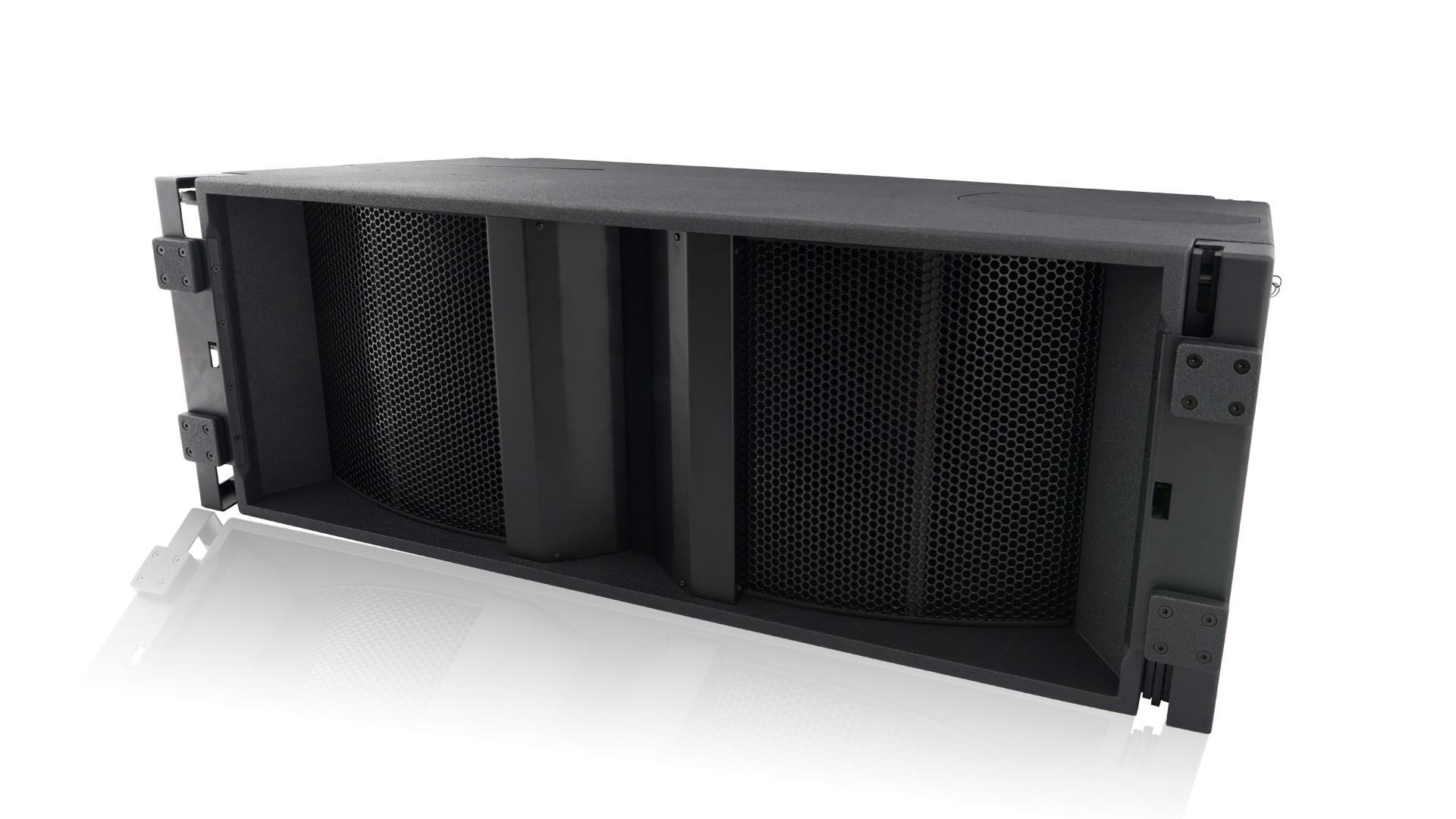 Power
2520 W AES/5040 W continuous
Impedance
LF: 8 Ohm / MF: 8 Ohm / HF: 8 Ohm
SPL
138 dB continuous/ 144 dB Peak
The bass section of the CLa312 consists of two 12" drivers coupled to a low flare folded horn. A horn always has the benefit of better control the pattern in which the sound is projected, avoiding the headroom bass problems on stage. The coherent sum of the mouths' outputs of all the enclosures of the array extends the low frequency response (i.e.46Hz–3dB for an 8 array element). Nowadays for events in which very low frequency performance is needed, the use of extra subwoofers will be required.
For the mid frequencies reproduction, the CLa312 uses one very high output 12" neodimium loudspeaker, coupled to a phase corrector device that evenly spreads its response all over the mouth of the horn. That is fundamental for every well designed line array to avoid combing situations.
High frequency is handled by two 1.4" exit compression drivers attached to a pattern controlled (85º horizontal x 8º vertical) symmetrical curved wave guide, coupled to a non resonant horn.
The system's shape is trapezoidal, so we can better angle and focus its elements. This feature could partially solve front fill applications, if the front fill focused elements could be managed independently apart from the other elements of the array. That can be done with the CLa312, as each loudspeaker is individually DSP controlled by its own digital processor.
Every CLa312 has built into it the amplifiers and digital control required to vary each of the features of the enclosure. This performance give us the possibility to program air absorption correction, modified eq's and gain for front fill situations, directivity control… and all the parameters we need to optimize the overall performance. The CLa312 has built in proprietary hardware for simple, fast and safe rigging. The enclosure has been made with the latest techniques assuring a perfect and rigid construction. Weatherized finish is provided, as the cabinet is covered with rugged Durawound texture finish and protected with epoxy powder coating grills.
Features
High-Power 3-way tri-amp enclousure
2 x 12-inch-LF cone Horn-Loaded / 1 x 12-inch MF cone Horn-Loaded / 2 x 1.4-inch exit HF both waveguide attached CD horn
Exceptional pattern control due to symmetrical design and large horn(s)
Applications
Theater
Touring sound, sports arenas
Large-scale touring sound reinforcement for outdoor festivals, stadia, arenas and concert halls
Premium fixed installations in concert halls, theatres, disco and sports
Frequency Response:
 58 Hz – 19 kHz ±4dB, measured on axys. 42 Hz – 19 kHz ±4dB (6 element array)
Components:

Low: 2×12" LF driver band pass horn loaded.

*Mid: 1×2" HF phase corrected.                                         *High: 2×1.4" compression driver attached to proprietary waveguide device

Nominal Dispersion:
90ºH x 8º[email protected] points (one box)
Impedance:
LF: 4 Ohm / MF: 8 Ohm / HF: 8 Ohm
Axial Sensitivity:
105 dB
Calculated SPL:
138 dB continuous/ 144 dB Peak
Power Handling:

2520 W AES / 5040 W continuous

     *LF:  1800W AES @8ohm
     *MF:  600W AES @8ohm
      *HF:  240W AES @8ohm

Dimensions (HxWxD) (millimeters/inches):
440 (front height) – 310 (rear height) x 1245×740 mm
17,32″ (FH) – 12,20″ (RH) x 49,02″ x 29,13
Net Weight (kg/Pounds):
85 Kg (187,39 lbs)
Construction: 
 16mm birch plywood. Finished in black semi-matt textured Polyurea weatherized coating. One recessed carrying handle.
Grille: 
Powder coated perforated steel
Accesories:

Top Grid: THV-312
Dolly: TWB-312 Dolly board
Transport wheels are available from TWB-312
Touring sound, sports arenas
Large-scale touring sound reinforcement for outdoor festivals, stadia, arenas and concert halls
Premium fixed installations in concert halls, theatres, disco and sports
THV-312
Top Grid. Allow up to 24
CLA312 to be flown. Also
support groundstacking of
CLA312
Flexible features allow these mounts to be installed anywhere, under trussing with a half coupler, atop tripod stands or suspended from overhead with pipe or threaded rod.
Steel, painted black or RAL colour under request.
TWB-312
Wooden Dolly Board for
CLA312
REINVENTING THE RULES
Tecnare